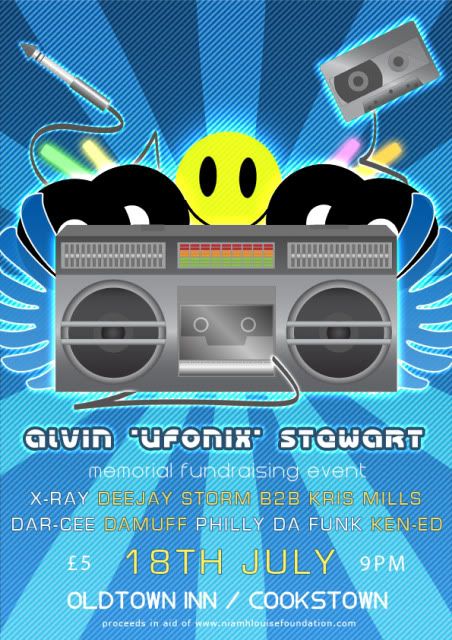 After the unfortunate cancellation earlier in the year it is with great pleasure to announce the re-organised event. Thought I would give everyone a heads up on this as I know people need as much time to organise travel etc to attend nights so hope you all can make it to celebrate the life of someone that was instrumental in getting nioldskool of the ground, and also a great friend who is missed everyday by alot of people.
I hope everyone is happy with the line-up as I have tried to balance the night between nioldskool djs and alvins dj friends from Cookstown aswell. There will be plenty of cheese on offer and also some house and Trance which Alvin also had a soft spot for ...... flyer to follow but for now here are the details
It will take place in 'The Old Town Inn', Cookstown on Saturday July 18th 2009
Dj's on the night ........
Xray
Phillydafunk
Kris Mills (superstardj)
Ken-e d
Deejay Storm
Dar-cee
DaMuff
Plus very special guest Dj
Admission is £5 on the door but you can also donate as much as you wish by sending a donation via paypal .... send to damuff1@hotmail.com and please leave note/message saying who you are .... thankyou
Proceeds go towards
http://www.niamhloui...GB/Default.aspx
Edited by Damuff, 08 July 2009 - 07:32 PM.